Do you have problems with delivery drivers causing damage to your business park and not owning up!!
Security
| Posted August 22, 2017 | by Nicky Ayers
This problem has the potential to cost your company a lot of money.
By having CCTV cameras installed we have been able to save money!  When an incident happens in and around our unit and causes damage we are able to check our CCTV footage immediately. This tells us, times, dates and more importantly who to contact in order to start the claim process.
We estimate that it would be approximately £500 to repair this broken sign, if there was no evidence or footage, this would have been a cost to the company.  However with these cameras we had all the evidence we needed, clear and concise footage of the whole incident, showing, dates, times and registration number of the vehicle involved.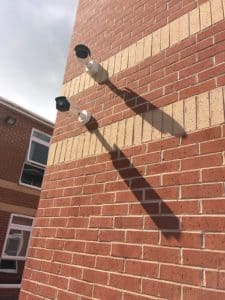 Once the damage was discovered it took 3 minutes to get the complete footage of the delivery driver mounting the kerb and pushing the sign over.  This footage was then downloaded and formed part of the evidence to be sent to the company in order for the claim to be processed.
If you want to know more about mysterious damage happening on your business park please contact us on 01527 872000 or visit our website.