Video Management Solutions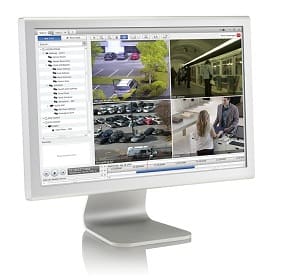 The flexible video management solutions available today enable upgrade paths for your existing analogue systems. That means there is no need to throw away your analogue cameras!
Video management solutions incorporate hardware and software to provide a platform to view multiple cameras live, interrogate and download footage, mass configure recording timetables and integrate with any central analytic functions.
A video surveillance solution consists of the following building blocks:
Cameras
Network infrastructure
Storage solution
Software for managing the system, viewing live and recorded video, etc.
In the analogue days, analogue cameras were connected over an infrastructure of coaxial cables to a DVR, which functioned as the storage solution. The DVR came preconfigured with a basic software solution for managing the system, viewing video etc. This was achieved by connecting a screen, a mouse and/or a keyboard to the DVR. As the system was supplied together with the DVR, it was proprietary and offered limited functionality.
In an IP (network video) system, the cameras are connected over a standard computer ethernet network such as LAN, WAN or the internet, very often utilising this infrastructure for power as well as data transmission. Video is either stored on a central computer server/PC, a network attached storage (NAS) unit, or on SD cards inside each camera. A web browser can be used to view live video from a camera, but for handling recording and other functionality in the system, in most solutions a video management software solution is needed. The video management software can be installed on the same PC as the storage or on a separate PC. In some systems, the cameras have enough video management software built into themselves so that the user only needs smartphone/tablet apps to view live and recorded video.
Avigilon Control Center was designed with openness in mind. This video management software allows you to easily integrate with other leading camera and hardware manufacturers.
The MxControlCenter video management software can connect any number of Mobotix cameras at any location into a straightforward and powerful video security system with centralised or local, user-based operation and evaluation.
Wavestore is a developer of industry leading video management software (VMS) recognised worldwide for its simple installation and ease of use. The open platform design enables simultaneous recording from combinations of analogue, IP, megapixel, multi-megapixel, HD, HD-SDI and thermal cameras.