Customer: Triplex Social Club
Location: Kings Norton, Birmingham 
Requirement: The community social and sports club needed a new intruder alarm system and wanted reliable support for the system.
Solution: Design and installation of a Grade 2 Orisec hybrid intruder alarm system ensuring that we met with the specific requirements of Triplex Social Club and its insurer.
This included the provision of a high-performance dual path Alarm Transmission System which provides notifications to our Alarm Receiving Centre (ARC) and a double push panic alarm which will trigger an audible alarm once pressed, whether the system is set or unset.  Additionally, we provided Orisec's mobile app so that the system can be managed remotely.
Services: Design of new Intruder Alarm System; Set up of Alarm Transmission System for remote monitoring; Installation, Training, Support and 24/7 monitoring by our ARC
Customer's View:
"We like the system as it's simple to use but covers everything we needed as a business premises"
Triplex Social Club in Kings Norton, south Birmingham is a well-established community sports and social venue that offers a function room for hire and has outdoor sports facilities. The club approached Ecl-ips as their existing intruder alarm system was very old and they were having problems with it.  Additionally, they felt the support from their alarm company at the time was very poor.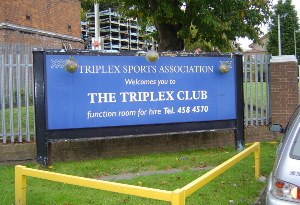 Following a site visit by our project engineer and intruder alarm designer, David Harris, we recommended a Grade 2 Orisec intruder alarm system. Orisec intruder alarm products are designed and manufactured in the United Kingdom and are only available from professional installers.
Ecl-ips has selected Orisec as one of its alarm suppliers because its products are reliable and unobtrusive and its cloud portal and app are simple to use while also offering advanced features which customers like the Triplex Social Club appreciate.
Grade 2 intruder alarm systems are designed to give a high level of protection and are recommended for commercial sites like the Triplex Club when stock is held on site. They are designed to combat burglars with some knowledge of alarm systems and who may have tools to help them to gain entry to the site. The intruder alarm system protects all potential entry points of a building perimeter.
The hybrid intruder alarm system is comprised of both wired and wireless detectors fitted within the premises including the entrance and exit; foyer; lounge; office; snooker and function rooms. Additionally, to provide extra protection for staff, a double push panic alarm has been fitted, which will trigger an audible alarm once pressed, whether the system is set or unset.
Ecl-ips designed added security for the Triplex Social Club premises through an ARC (alarm receiving centre). Once an activation signal is sent to the monitoring centre, for example, a detector being triggered, the monitoring team carefully filter activations. Alerts that are false alarms are filtered out, while confirmed alerts are sent through to registered keyholders who can take quick action.
Steve Darling, a director at the club said, "I would always recommend an alarm system to anyone as an individual or a business."
"The installation was a very smooth process. All went to plan and to timescales."
When asked about the experience of using the Orisec intruder alarm system Steve said it was important to ensure that all intruder alarm users are aware of any new codes. One of the Triplex Club users wasn't notified when the code was changed following the installation as he was on holiday at the time. This meant that when he returned and entered the premises, he could not unset the alarm.
However, the Orisec intruder alarm system has proved to be effective and reliable.
Download a copy of the Triplex Social Club Case Study PDF