Excel Power Distribution Units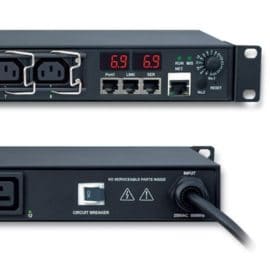 The introduction of the CRC Energy Efficiency Scheme Order 2010 will require the closer measurement of energy consumed.
The Excel Intelligent Power Distribution Units – Managed (Managed PDU) allow superior monitoring and control via the Local Area Network (LAN) using a standard web browser (e.g. Internet Explorer, Firefox, Chrome, etc.). The Managed PDU will provide this while having the ability to send Email and audible alerts following configurable threshold limits being broken. Multiple units may be linked together via infrastructure cabling thus requiring only one IP address for access and monitoring. The managed PDU allows individual control of each socket or a sequential start up to prevent a power surge. This can be carried out either on a real time basis or by configuring a timed on/off. The addition of sensors allows for the detection of Temperature/Humidity, Smoke, Water, Door Opening. In addition to a web browser the Managed PDU can be controlled via SNMP or Telnet. The SNMP Management Information Base (MIB) files are supplied with the PDUs.