National Security Inspectorate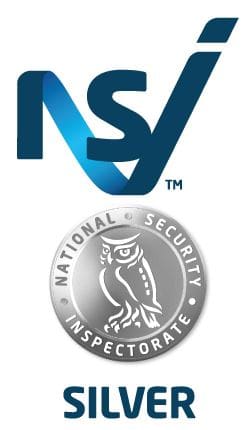 The National Security Inspectorate (NSI) is recognised as the leading certification body for security and fire protection in the UK.
Businesses and homeowners who choose NSI approved  companies have the reassurance that their contractors will work to the highest industry standards demanded by the Police, Fire and Rescue Services and the insurance industry. The NSI Directory lists all the companies who have successfully achieved NSI certification.
Ecl-ips are proud to be an NSI accredited company in order to provide our customers with the level of response and service that they expect.
The NSI story began in 1971 with the formation of the National Supervisory Council for Intruder Alarms (NSCIA). This was created to deal with the problem of poor quality equipment and 'cowboys' within the intruder alarm market.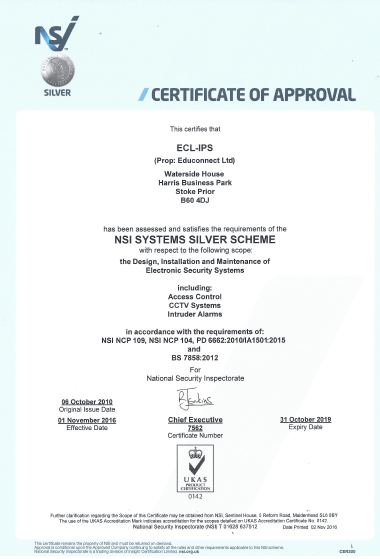 20 years later, the National Approval Council for Security Systems (NACOSS) was formed from the merger of NSCIA and the Security Systems Inspectorate (SSI). Its role was to continue to improve standards in line with increasingly tougher requirements of the insurance sector and the police national alarms policy.
NACOSS was instrumental in improving standards in the security industry, achieving widespread recognition from insurers, police and security buyers. CCTV and access control systems were added to the portfolio covered by NACOSS.
The Inspectorate of the Security Industry (ISI) was formed in 1992 to offer a voluntary inspection regime for the security guard sector.
In 2001, ISI and NACOSS merged to create a unified inspectorate – the NSI, covering all elements of the security industry, with the goal of creating one definitive certification body for the benefit of customers and suppliers.
NSI has extended its expertise into fire protection systems, helping to develop the BAFE Fire Protection Industry Modular Scheme SP203 for companies involved in the design, installation, commissioning and maintenance of fire detection and alarm systems.
In 2006, NSI was appointed as an Assessing Body for the Security Industry Authority (SIA) Approved Contractors Scheme (ACS).
For more information relating to the NSI click here