We estimate the repair of this damage to the kerb stone would be approximately £2,000, a cost any company can do without.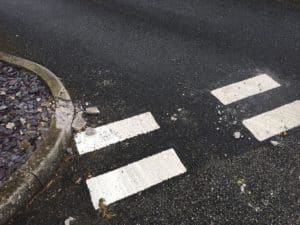 With these two cameras we were able to not only find the perpetrator but were able to give dates and times of the incident too, giving precise details the company could double check with!
Once the damage was discovered it literally took 3 minutes to find out when the damage happened, who had crushed the kerb and how!  We have since contacted the company and shared all the images and CCTV footage, the claim is being processed and it won't cost us a penny to repair the kerb and it's all due to having conclusive, clear footage that once shared with the offending company they couldn't deny the incident.
For more information on how we can help you from any unnecessary expenditure visit our website