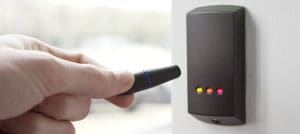 Electronic Access Control Systems have many advantages including the ability to monitor real time activity, on site and remotely off site. There are a variety of ways for you to gain access, the most commonly used is the fob or smart card, however biometric technologies include fingerprint, facial recognition, iris recognition, retinal scan and voice, which are also available.
The advantages of using an electronic access control system include:
the ability to monitor real time activity, on site and remotely off site
staff time keeping logs
emergency evacuation call list logs
secure room access activity logs
the ability to unlock doors remotely or via schedule
to reduce your costs and increase service levels to staff / visitors
provide occupancy levels
We are frequently asked about power failure and how it can affect the electronic access control.  Where possible we install Power over Ethernet systems and install uninterruptible power supply (UPS) which will support the required number of access points with the correctly calculated power demand to cover your business needs and keep your mind at peace.
Access Control systems installed and maintained by Ecl-ips
What is Access Control?
Access control is the ability to permit or deny the use of a particular resource by a particular entity. Mechanisms can be used in managing physical resources (such as a movie theatre, to which only ticket holders should be admitted), logical resources (a bank account, with a limited number of people authorised to make a withdrawal) or digital resources (for example, a private text document on a computer, which only certain users should also be able to read).
Electronic Access Control System components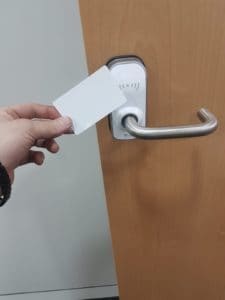 An access control point, which can be a door, turnstile, parking gate, elevator, or other physical barrier where granting access can be electrically controlled.
Typically the access point is a door. An electronic access control door can contain several elements. At its most basic there is a stand-alone electronic lock. In larger applications involving more than one door, electric strikes or magnetic locks are used. The lock is unlocked by an operator with a switch. To automate this, operator intervention is replaced by a reader. The reader could be a keypad where a code is entered, it could be a card reader, or it could be a biometric reader. Readers do not usually make an access decision but send a card number to an access control panel that verifies the number against an access list.
To monitor the door position a magnetic door switch is used. In concept the door switch is not unlike those on refrigerators or car doors. Generally only entry is controlled and exit is uncontrolled.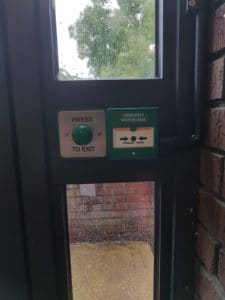 In cases where exit is also controlled a second reader is used on the opposite side of the door. In cases where exit is not controlled, free exit, a device called a request-to-exit (REX) is used. Request-to-exit devices can be a push button or a motion detector. When the button is pushed or the motion detector detects motion at the door, the door alarm is temporarily ignored while the door is opened. Exiting a door without having to electrically unlock the door is called mechanical free egress. This is an important safety feature. In cases where the lock must be electrically unlocked on the exit, the request-to-exit device also unlocks the door.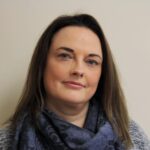 Ecl-ips can provide your business with a range of access control solutions and integrate this with our CCTV systems too. For advice on developing integrated security systems  contact us.
Nick Pinfield, Managing Partner of Chartered Accountants Pinfields, explains how installing access control has helped his firm.