If you are looking to enhance your security systems and improve safeguarding for all those on your site but also want to provide easy access for them then the electronic access control solutions from Paxton Access Control will help.
Paxton aims to design and manufacture intelligent and innovative electronic access control products and its solutions are simple for those managing access to businesses, schools, colleges and other organisations as well as the users themselves. With COVID-19 still a risk, investing in the Net2 software from Paxton Access will also help reduce transmission of the virus.
Benefits of Electronic Access Control
If you are struggling with access management on your site and want to be able to more easily record who is present or want to seal off areas within your property then electronic access control is the answer.
You can improve access both to staff and visitors but at a manageable cost
When staff leave it is easy to remove their access and add new staff and you do not have to keep track of multiple sets of keys
You can manage occupancy levels easily – critical while Covid-19 is still a risk but useful when event-planning
If it is a site that is not always staffed then it is easy to control access remotely or via a schedule; with Paxton10 you can manage multiple sites remotely on a single platform
You can monitor real time activity, on site and remotely off site
You can create staff time keeping logs
The system will create emergency evacuation call list logs
Areas within a building can be separately secured
Door Locks are managed either centrally or via stand-alone solutions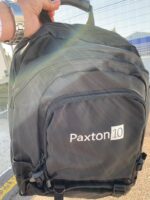 Paxton launched Paxton10 in November 2019. This combines next generation access control and video management on a single platform. This versatile system supports multi-site management & remote access. Paxton10 is scalable from 1 to 1000 doors & 1 to 1000 cameras.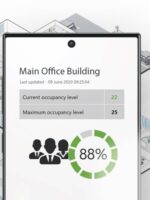 Net2 is an advanced PC based access control solution which has most recently been updated to respond to the challenges posed by the risk of COVID-19 transmission. With the latest advances you can also manage access control remotely on mobile devices.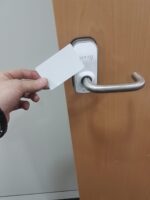 PaxLock door handles form part of Paxton's range of wireless access control solutions for effective door locks. The design is compatible with any DIN standard lock for a quick and simple installation. It can be standalone or networked. People can have card access or access via door fobs.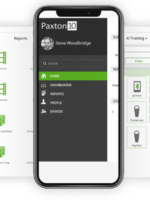 Straightforward to use, the Paxton Connect app contains a range of features in one smart platform and enables you to manage multiple sites remotely from a smartphone, tablet, or browser. This app is available for both of Paxton's main access control systems: Paxton 10 and Net2.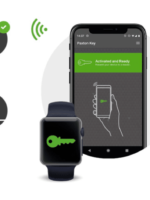 Paxton Key works with Paxton10 readers, PaxLock Pro and Entry panels using four simple steps:
1) A smartphone, tablet or smartwatch sends an encrypted advert up to a range of 10 metres
2) A Paxton10 reader connects
3) Free Bluetooth credentials are exchanged
4) Access is granted or denied within milliseconds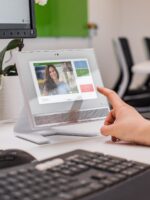 Paxton's Door Entry system can be installed alongside Paxton10, Net2 access control, combining door entry with the key features of Net2, as well as a standalone option. Users can unlock additional features such as intruder alarm integration and answering the door from a SIP compatible door plus centralised management from a PC.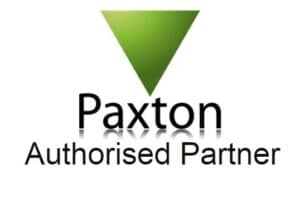 From its inception Paxton Access has aimed for engineering excellence and has become a market leader through its constant efforts to exceed the expectations of installers and system users. The firm aims to offer the latest access control technology to provide powerful, yet easy to use security solutions for a wide range of sectors including education, healthcare, retail, leisure, commercial, the public sector.
Ecl-ips is a long-standing Paxton partner able to provide specialist expertise and knowledge of its products and software. We are able to offer their access control solutions as part of an integrated security solution if necessary. Additionally, as an established partner Ecl-ips is also able to take advantage of its free installer training workshops and excellent technical support team. We can also provide our customers with the five-year guarantee and simple returns process Paxton offers.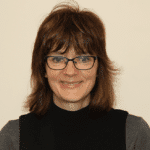 We can provide a complete access control solution with Paxton products. If you would like our advice on this contact us.
Frequently Asked Questions
Why do I need access control?
Access control allows you to manage your buildings more effectively and keep them more secure. They give you the ability to monitor people entering buildings, or parts of your site both if you are on site or off site via remote access.
What is Net2?
Net2 is Paxton's networked access control system. It can be administered using one or more PCs and can be monitored and managed from a central location. It is a complete solution that encompasses wireless and door entry.
There are two versions of the Net2 software: Net2 Lite which is free of charge and is ideal for most sites, and Net2Pro, which offers extra features for more flexible and advanced access control. The software is designed to be straight forward and intuitive so is easy to learn.
What do you get with Net2 Lite?
The Net2 software offers centralised administration and control of sites with up to 1,000 doors and 50,000 users.
You can access privileges to groups or individuals quickly and easily using the intuitive, user-friendly software. Event reports can be generated in a few clicks and advanced features such as site graphics, IP camera integration and 'Triggers and Actions' further extend the capabilities of this system.
What additional features do you get with Net2 Pro?
In Net 2's latest update Net2.v6.05 Paxton has responded to the challenges posed by COVID-19 by adding Checkpoint Control which allows businesses to protect their staff and visitors by monitoring and approving people as they return to work. Its previous upgrade Net2 v6.04 added an Occupancy Management feature which allows you to limit the number of people in any given area of a building; either barring access or sending an email/text to a manager when a space nears capacity.
Paxton has also added functionality making remote monitoring of sites safer and more effective than ever. Sites can be easily managed via an internet browser or the smartphone app minimising the need for regular site visits. Paxton Connect, available for the iOS & Android operating systems and Net2Online are accessible from any device with an internet connection. They are completely free to existing users of Net2 Pro software.
Other features on Net2 Pro are fire alarm integration; roll call and muster reporting; timesheets and timelines; security lockdown; Landlord-tenant/ advanced operator permissions and multi-zone intruder alarm integration.
Why would I want to install Paxton10?
While Ecl-ips has the expertise to integrate your CCTV and access control systems Paxton10 combines both technologies into one product to remove any complexity and deliver the benefits of a completely integrated solution.
What is the advantage of Paxton10?
Combining video management sureveillance and access control into a single, user-friendly system makes managing the security of your site much simpler with Paxton10. The range of free Paxton apps are also available to help you access your security system from a smartphone or tablet. The Paxton Key App is a really convenient way to open doors that is only available for Paxton 10 users.
What is the Paxton Key app and how we it help me?
The Paxton Key App for Paxton 10 users allows access through doors with your smartwatch, smartphone or tablet, it even works without ever taking your smartphone out of your bag or pocket! The free Bluetooth smart credentials are easy to issue and use, and allow you to open any Paxton10 door using the Paxton Key app.
Available for iOS and Android phones, as well as Apple Watches and Wear OS devices, the Paxton Key app offers ultimate convenience and ease of use.
What is Paxton10 Multi-Site?
The Paxton10 multi-site feature of its software means you can manage multiple sites on one system. Using Paxton10 Cloud Services your system can span buildings, cities, countries and continents with no complicated setup or physical network required. The system is scalable up to 100 sites on a single system with up to 1,000 doors, 1,000 cameras and 50,000 users.
What is PaxLock?
PaxLock is Paxton's range of wireless access control in a door handle. It offers the same security and convenience as a wired access control system but with the additional flexibility of being wireless, meaning less cabling and therefore quick and simple installation for minimal disruption.
PaxLock can be standalone or as part of a networked system, offering a versatile access control solution that can grow with the needs of your site.
Networked or Standalone system, which would be right for me?
The Net2 PaxLock and PaxLock Pro can both be used as part of a Net2 access control system. This means centralised management from a PC, and the benefit of a range of additional features that come with Net2.
PaxLock Pro can fitted without a network in standalone mode, ideal for smaller sites or those not requiring the additional functionality of an online system. This simpler solution just requires a PaxLock Pro and a pack of access cards or keyfobs.
When do I need a Net 2 Air Bridge?
The Net2Air Bridge uses Paxton's Net2Air wireless technology to communicate with the Net2 software. The Net2Air Bridge provides the wireless communication link between the PC running Net2 and wireless control units such as the Paxlock Pro. The Bridge uses a site's LAN which means that multiple Net2Air Bridges can be placed around a site and linked back to the PC.
What is Proximity Compact?
Proximity compact is a single door access control system. All of the electronics are within the housing of the reader. Compact systems can be installed to many doors over a site, all using the same cards.