Security and threat management firm Ecl-ips is proud to be a sponsor for the 2019 season of Bewdley racing driver Tom Rawlings who has joined the JamSport team in the JCW MINI Challenge Championship – which it won last year. Bromsgrove-based Ecl-ips is hoping its backing could help him go all the way.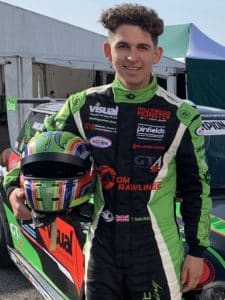 This weekend (8th/9th June) he will be racing at Siverstone and there will be further racing at Donington and Brands Hatch over the summer and into the autumn finishing with the Snetterton 300 in October.
Although he is still just 17 years old Tom has been racing since 2011 when he began racing karts in the Comer Cadet Class. In 2012 he finished as Celtic Champion and had an even better year in 2013 when he finished as Welsh Champion, Celtic Champion, Southern NKRA Champion and UK National NKRA Champion.
In 2014 Tom moved up to Junior TKM Class with direct drive and again became the Welsh Champion and then in 2016 he continued karting and began rally driving. Last year Tom got his full circuit race license and decided to race single seaters in the Monoposto Championship. Although he suffered some mechanical failure Tom managed to finish fifth in the championship and won the Sunbac Nova Award for highest finishing novice.
Tom said "I am really excited to be joining Jamsport for the 2019 season and to compete in the JCW MINI Challenge Championship, I will be pushing myself and the team to the limits to ensure we get the best results we can, with Jamsport being the reigning champions I feel they can give me the equipment, support and training I need to succeed."
Ecl-ips – which will be marking its 17th year in September – is a small company but is just as ambitious as Tom when it comes to wanting to be the best at what we do – providing high-quality CCTV, monitoring, power backup and automation systems across the UK.
If you want to know more about Tom go to https://www.tomrawlingsracing.com and to learn more about his team go to http://www.jam-sport-racing.co.uk/.