While many of you will be off on your holidays over August the Ecl-ips team has been busy on some of its annual CCTV maintenance visits making sure the systems are working well for our customers.
Ensuring the good working order of the CCTV system
When we install a CCTV system, we will maintain it for free for the first year.  Taking out a maintenance support contract with us for the subsequent years gives customers the peace of mind that they have a CCTV system they can rely on. A good maintenance contract will ensure the working order of the camera system and establish that your system is taking advantage of the latest software upgrades.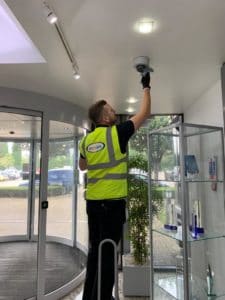 It is also important to think about the total cost of ownership (TCO), maintenance not only covers new systems but can often cover existing systems too. However, newer IP CCTV systems often have lower TCO.
In our annual visits we ensure that all the cameras are thoroughly cleaned. It also gives us the opportunity to talk to face to face to our clients and to ensure that the CCTV system is working as they want it to be and to discuss if they have any additional requirements.
Fixed price contracts to help control costs
CCTV maintenance costs may rise year by year due to costs increasing, you can avoid this increase by getting a fixed price contract for the forthcoming years. Our CCTV maintenance contracts can range from a 12-month contract to five years depending on your needs. A longer contract can give you a better arrangement and a better predicted expenditure for the coming years.
Before you sign up to a maintenance contract it is important to consider:
If maintenance visits are included?
Will faulty units be replaced free of charge?
Do site visits cost extra?
A range of CCTV maintenance packages offered
We offer a range of CCTV maintenance packages. These packages are tailored to suit the client and are offered as bronze, silver or gold bundles depending on what level of support you require. The level of support can range from only help desk diagnosis to further include having an engineer on site the next working day. To find out more about our maintenance support packages see below or contact us.