We've won a Business Sustainability Award presented by Arrivista!  As a team we are very proud to be presented with this award and it is a reflection of lots of hard work throughout 2014.
Simon Williams of Arrivista presented the Sustainability Award to Darren Roe and stated it is: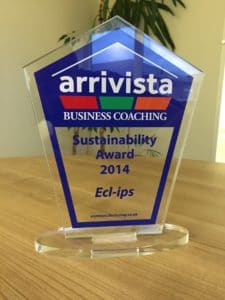 "All about putting in place effective systems that support the business whatever the economic climate and whatever ups and downs may impact the journey the company is on. Ecl-ips has shown the ability to maintain excellent customer service and support, even when suffering from staff shortages all the way through to continuing to growing revenues, profits and cashflow on a long term basis."
Ecl-ips is an independent company that specialises in environmental and security threat management – focusing primarily on CCTV, access control and real-time monitoring. IP is at the centre of all of our solutions and we have extensive knowledge and expertise to ensure that your communication rooms, datacentres and premises are monitored and controlled at all levels.
Our customers include many blue-chip organisations, educational and government establishments throughout the UK. We have an eye for detail and take great pride in the quality of our workmanship – providing you with the most appropriate, well designed and installed system is always our highest priority. Needless to say that recommendation is our biggest selling tool.
Should you require any of our services with a lower initial investment we can offer fully hosted systems that include:
Server Room, Data Centre and Communication Room Monitoring Services
Power Monitoring and Management Systems
Our office is based in the Midlands and includes a full demonstration facility of the products and services that we can provide.
We partner with a number of leading manufacturers and constantly review the latest technologies and products on offer to ensure that we provide the best solutions to our customers. If you want to know more about how we can help your business contact us.