Ecl-ips is proud to have once again achieved the IASME Governance Standard that includes the Cyber Essentials Certification.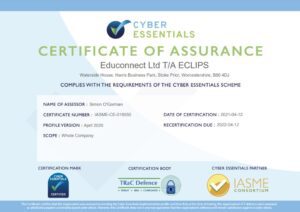 Knowing that we meet the standards required by IASME gives you peace of mind as we can demonstrate that we take the protection of your data seriously and meet our legal requirements under the General Data Protection Regulation (GDPR), which was brought into UK law in the Data Protection Act 2018.
Additionally, the IASME Governance Standard is a risk-based assessment that includes key aspects of security such as incident response, staff training, planning and operations.
The Cyber Essentials Certification is a government -approved business certification scheme specifically aimed at helping businesses become more secure against internet born threats. Not only does it demonstrate to you that we are taking cyber security seriously as part of our business operations it also gives Ecl-ips the opportunity to bid for government contracts which increasingly ask for this certification as part of their tender process.
Ecl-ips is also now listed in the directory of companies awarded Cyber Essentials which is an ideal source of information for those that want the peace of mind of selecting a company that takes cyber-security seriously.
Achieving the IASME Governance Standard is part of our commitment to be a company that has well-trained staff and to be a company that you can trust. This is not only demonstrated in all the accreditations that we work to renew each year, notably NSI Gold and SafeContractor, but also by the time taken to research products and suppliers and truly understand their offering. If we work to high standards, and have products that we understand and believe in, then we know we can offer customers solutions that will work for them as well.
To find out more about how we can help you with a wide-range of security and monitoring solutions including, CCTV, access control and intruder alarms please contact us. You can arrange an online chat at a time to suit you if you want to know more.