Ecl-ips understands that to win business from organisations in the public and private sector ensuring cyber and data security is prioritised is vital.
That is why we are really proud to have recently gained the IASME Governance Standard, which means we passed the Cyber Essentials assessment as well as demonstrated we meet the latest data protection rules as required by the GDPR.
Governance standard achieved at a realistic cost for small firms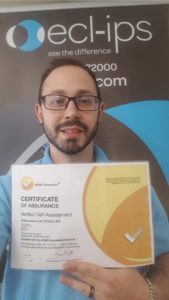 The IASME Governance standard was developed over several years during a government-funded project to create a cyber security standard which would be an affordable and achievable alternative to the international standard, ISO 27001.
It allows small businesses, like Ecl-ips, to demonstrate their level of cyber security for a realistic cost and indicates that they are taking good steps to properly protect their customers' information. We completed the Standard via a self-assessment process completed by our Senior Engineer, Stephen Gilbert (pictured).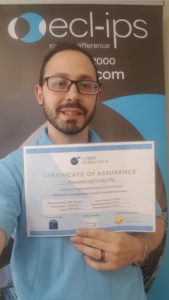 Cyber Essentials is a government -approved business certification scheme specifically aimed at helping businesses become more secure against internet born threats. Cyber security matters because it is classified at the highest level of threat the country faces, known as a tier 1 threat in the same category as terrorism.
Cyber Essentials helps with winning contracts
IASME states that with the increased number and sophistication of cyber-attacks, Cyber Essentials is a scheme proven to reduce the risk of an online attack by 80%. Due to the effectiveness of Cyber Essentials, IASME added that government tenders are increasingly asking for Cyber Essentials before a contract is awarded.
It is already mandated by MoD for contracts where there is MoD identifiable information. For these MoD contracts Cyber Essentials is also mandated throughout the respective supply chain. Cyber Essentials therefore enables organisations to gain and retain business. Additionally, IASME stated that Cyber Essentials can mitigate fines imposed by the Information Commissioner's Office in respect of compliance with data protection regulations.
IASME said it is dedicated to keeping everyone safer online both at home and at work. This cyber security business began with the development of its Governance Standard which was selected by the UK government in 2013 as the best standard for small organisations. IASME subsequently helped to develop the Cyber Essentials certification scheme.
IASME became the NCSC's Cyber Essential partner on 1st April
More recently IASME was chosen by the government's National Cyber Security Centre (NCSC) to take over full responsibility for Cyber Essentials delivery (previously it was one of five accreditation bodies) and became the NCSC's Cyber Essential partner at the beginning of April.
Commenting on the change IASME's chief executive Dr Emma Philpott said, "Partnerships will remain a key theme to the on-going success of the Cyber Essentials scheme. NCSC and IASME share a vision for making the nation more resilient to online cyber threats and we are really looking forward to the next 5 years."
Ecl-ips committed to the highest standards in all business areas
Ecl-ips is also excited to have received its accreditation at this time. The gaining of the IASME Governance Standard and Cyber Essentials Certification come after we achieved NSI Gold approval last year and also have continued CHAS (Contractors Health and Safety Assessment Scheme) and SafeContractor Accreditation.