Julia, our Business Administrator, has been putting her best foot forward this month by taking on Free Radio's fundraising challenge throughout May of completing 5k a day in aid of Cash for Kids.
This charity supports children and young people affected by poverty, abuse, neglect, life-limiting illness and those who have additional needs. It is based across 22 areas in the UK, where Bauer Radio operates its radio stations, providing grants to help community groups, other charitable organisations, schools and individual causes.
Julia, who always enjoys keeping active, including doing box fitness training, is walking, running, dancing, climbing up and down stairs as well as exercising on a row machine and a cross-trainer as part of her daily 5k.
She is having fun and making herself conspicuous when out and about by having a theme for each day. So far this has included a bad tie day; Tuesday twirl day; a Manic Monday wig day, Wet Weight Wednesday and taking a pet for a walk day.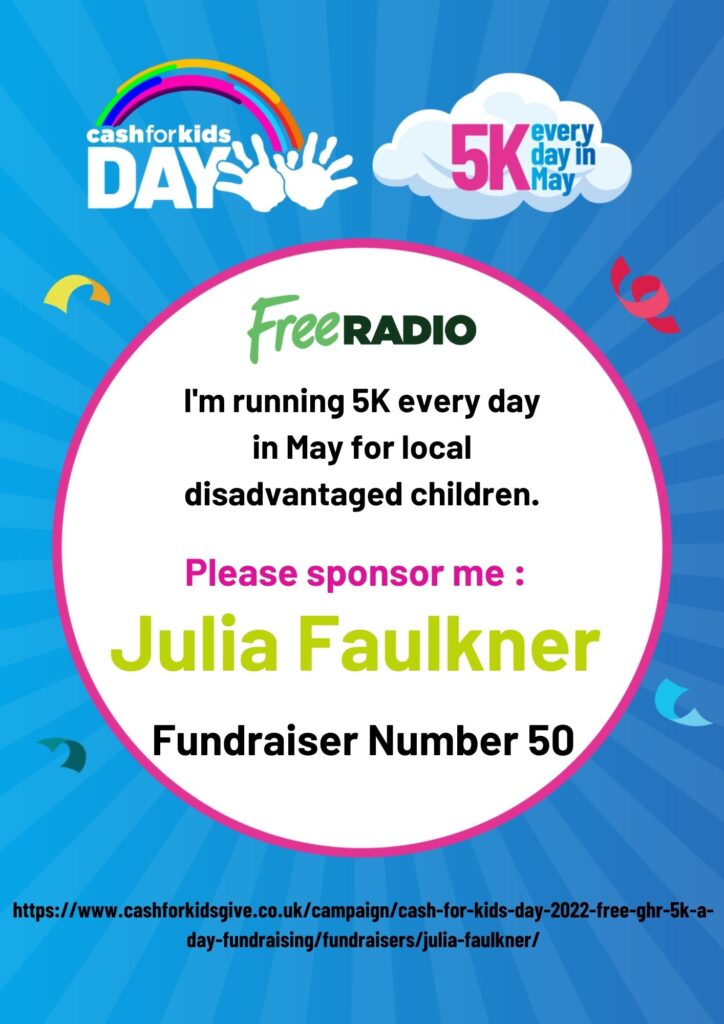 Julia said she decided to take on the challenge in May because of hearing about it on Free Radio Hereford & Worcestershire and wanting to support children in her local area. She said, "No child should go without especially when it's on your own doorstep. I can't always afford to donate so I thought I would use my legs to get others to donate for this good cause."
When she isn't keeping fit Julia is a keen rugby fan who supports Worcester Warriors and she likes watching tennis as well as boxing.
Currently Julia, who lives in Wychbold near Bromsgrove, is fourth on the leader board of fundraisers in the region having raised £471 since starting at the beginning of May. However, she would love to raise just a bit more before the end of the month.
If you are able to support Julia to help Cash for Kids across the West Midlands just go to this link: https://www.cashforkidsgive.co.uk/campaign/cash-for-kids-day-2022-free-ghr-5k-a-day-fundraising/fundraisers/julia-faulkner/