Texecom's intruder alarm systems protect millions of people and properties around the world. We are pleased to offer customers in the UK a Texecom burglar alarm system if you have an existing system you want to upgrade or would like to look at a Texecom solution for a new intruder alarm system.
Texecom offers digital and cloud-based solutions, adding value and can be integrated with wider security and building management systems. This offers increasingly connected, intelligent and dynamic solutions to meet your security challenges.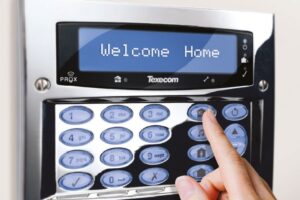 Premier Elite Series
The Premier Elite Series provides a single, comprehensive system architecture and peripheral range that scales from the simplest and smallest security applications through to the largest and most complex.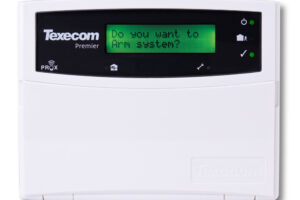 Premier Series
Compatible with Premier Elite Series products, the Premier Series offers a comprehensive range of high quality, high performance security solutions for medium sized installations.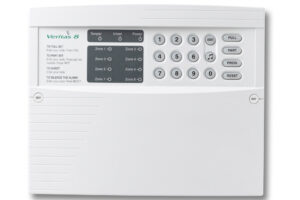 Veritas Series
Veritas Series products are designed predominantly for residential or smaller installations where ease of use, ease of installation and product reliability are essential.

The Texecom Connect app allows you to control your security directly from your compatible smartphone or tablet device. Control the operation of your security system, receive notifications of system events and monitor cameras or activity from anywhere in the world.
Key Features
Arm and Disarm the intruder alarm system with easy to use controls
Compatible with IP cameras that support JPEG video formats. View live footage from your Texecom Connect app, anywhere in the world, and locally record video to your smartphone
You can automate and control lighting, heating, power, video and home appliances through the Texecom Connect app if they are integrated into your security system.
Frequently Asked Questions
How does an intruder alarm system work?
Intruder or burglar alarm systems work by sounding an alarm when movement is sensed inside your home while the alarm is set and active. These systems contain lots of detectors that can detect motion, alerting you or your neighbours to a potential intruder. The detectors should be located in areas where people are more likely to try to enter your home or commercial property, such as entry doors or windows. Additionally the alarm system can be connected to your mobile device allowing you to receive notifications when the alarm sounds and also means you can set the alarm remotely when you have an internet connection.
If you need more protection because of the high value of your property and your assets we would recommend you opt for remote monitoring which means your alarm system will send a signal to our alarm receiving centre (ARC) if the alarm has been triggered. The ARC will be able to detect if it is a false alarm or not and if it is not they can request a police response if necessary.
What are the key benefits of having a burglar alarm system?
The  key benefits to you as a home or business owner of installing an intruder alarm are:
Protecting your property from theft and vandalism
Increasing the likelihood of police apprehending criminals
Lowering your insurance premiums
Providing peace of mind when you're away from home or off-site.
What are intruder alarm grades?
Intruder alarms are categorised into 4 different grades, based on their levels of performance (such as functionality, reliability and durability). Ecl-ips will fit grade 2 and and grade 3 level alarms.
Grade 2 systems offer a good level of security for most residential properties and and lower risk small commercial properties. This level will protect against burglars who have some knowledge of the alarm system and property. It protects multiple entry points.
Grade 3 systems are designed to combat burglars and attackers with advanced knowledge of the alarm system and have tools and equipment (including portal electronic devices). The system is comprehensive and protects all potential entry points of a building. High risk homes and lots of commercial properties fall into this category.
Before we install a system we will survey your house or premises to ensure that we are providing a system that will meet your needs and the risk level of your property or business.
Who can provide a Texecom Intruder Alarm?
Texecom intruder alarm systems should be installed by a professionally accredited alarm installer, like Ecl-ips, which has Gold Accreditation from the National Security Inspectorate. We are also able to upgrade or service Texecom alarm systems.
What Texecom security products can you supply?
We can install a wide range of Texecom products to protect your home or business, not just from unwelcome visitors, but other risks too, such as smoke:
Control Panels
Keypads
Internal and External Detectors
Wireless Smoke Detectors
Internal and External Sounders
Key Fobs
Expanders
Communication Modules
Whatever your chosen intruder alarm system our surveyors will design a bespoke system using the right solutions to meet your needs.