Excel, a Mayflex brand, is driven by a team of industry experts, ensuring the latest innovation and manufacturing capabilities are implemented to surpass industry standards for quality and performance, technical compliance and ease of installation and use.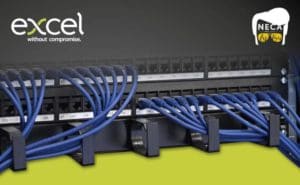 With an emphasis on compatibility and standards compliance 'from cable to cabinet', reliability and product availability, Excel is the complete trusted solution. After the brand was launched into the UK market in 1997, Excel enjoyed formidable growth and by 2012 was reported to be the 2nd largest structured cabling brand with a 17% share of the UK market.
The rise of the brand reflected a growing demand for a reliable, standards-compliant, readily available, structured cabling and racking system. With a focus on, system performance, independent verification and a 25 year product and application warranty, when installed by an Excel Partner, it's easy to see why this is the system of choice in many government, education, retail, finance and enterprise installations in the UK as well as across the rest of Europe, the Middle East and Africa.
As an Excel Cabling Partner (ECP) Ecl-ips engineers and designers are all accredited to the required standards.
Educonnect, which now trades as Ecl-ips, began its life in 2002 as a cabling company. While we broadened our expertise to IP Services, focused on data centre and server room monitoring, and then also security solutions, we continue to require the high quality cabling product Excel provides as we roll out our CCTV, intruder alarm and access control installations.