Our Trainee Project Engineer, Matteo, has been ensuring that he meets the high standards of health and safety awareness we expect of staff when they are working on client sites.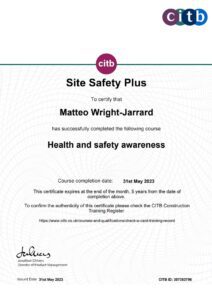 Matteo, who started as a trainee with us in March, has now completed enough online courses and desk-based learning to accompany the rest of the engineers on site to gain practical experience and training on the job.
To ensure he is safe when on site working on security system installations with the rest of the team, he has just successfully completed the Construction Industry Training Board's (CITB) Health and Safety Awareness Course.
The CITB is the industry training board for the construction sector in England, Scotland, and Wales, which is sponsored by the Department of Education and accountable to UK government ministers. The organisation exists to help the construction industry attract talent and to support skills development, to build a better Britain.
ECS Health and Safety Assessment passed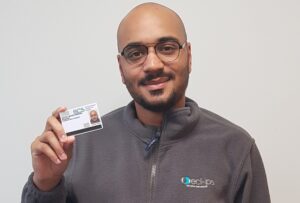 Matteo also passed the ECS Health and Safety Assessment which means he was able to apply for, and has now received, an ECS card. All of our engineers carry these cards demonstrating that they have received the appropriate training and qualifications for the job they do on site. This meets the standards of the Electrotechnical Certification Scheme (ECS) which is the sole ID and competence card scheme for electrotechnical operatives in the UK and is recognised and endorsed by the industry.
The ECS cards prove their qualification status, main electrical occupation, identity, health and safety awareness, as well as any additional disciplines in which they are skilled to work. The ECS is a partner of the Construction Skills Certification Scheme (CSCS) and covers not just core electrotechnical occupations, but specialised industries such as building controls, data communications, highway electrical and fire & security.
We are always keen to demonstrate to our clients that we adhere to high health and safety standards. This is why we have been Safecontractor accredited since 2015 and hold the respected CHAS (Contractors Health and Safety Assessment Scheme) accreditation.
Knowing that all the project engineers from Ecl-ips are properly trained gives client's peace of mind when we install intruder alarms, CCTV or access control systems. We are also NSI Gold accredited demonstrating that we follow quality control systems to ensure customers receive a high quality of service.
If you want to know more about the security and monitoring solutions we offer please get in touch.