When Mobotix developed the first weatherproof web cam with digital image sensors and an integrated PC back in 1999, no one could ever have imagined the impact this would have on the future of video surveillance. The transmission of video streams over computer networks finally enabled video technology to depart from the restrictions of a TV standard which had applied for 60 years, bringing it in line with the megapixel image quality of modern-day digital cameras. The new technology isn't just more powerful in all areas, it also has two decisive advantages: it is more cost-effective than traditional CCTV video technology and more multi-functional thanks to its integrated computer and network connection.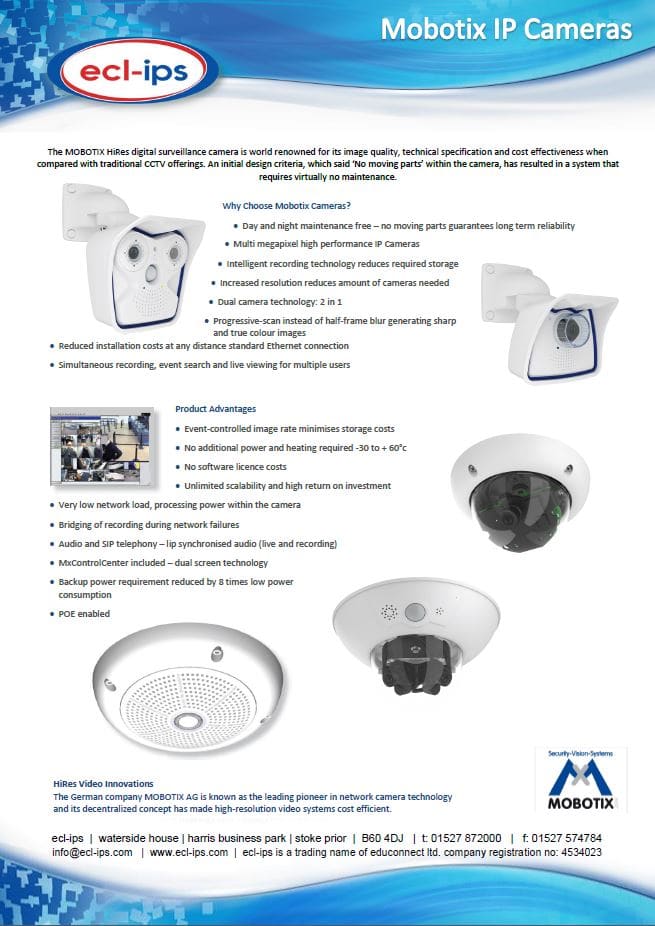 The primary benefit of using high-resolution cameras is that the stored images are more revealing and provide stronger evidence than other formats. Mobotix cameras record approximately 30 times more detail than 95% of all existing video systems worldwide. In virtually all applications, one Mobotix camera can replace several standard CCTV systems because Mobotix technology offers four times more coverage. For example, at the World Cup soccer stadium in Kaiserslautern, a single Mobotix camera monitors four turnstiles at the same time. Even an entire room can be monitored with one 90° wide-angle lens camera positioned in a corner of a room. The high-detail resolution not only means fewer cameras, but it also reduces the amount of cabling, backup-power requirement and storage systems, thus minimising the overall costs of the system substantially.The robust fibreglass-reinforced housing, broad operating temperature range of –30 to +60 °C (-22 to +140 °F) and absence of fans, heating or moving parts are key to the high reliability of Mobotix cameras. To date, more than 100,000 cameras have been installed worldwide in all environmental conditions, from the Antarctic to the deserts of Saudi Arabia to the tropical Everglades in Florida.
Thanks to their unlimited scalability and high performance, Mobotix cameras are suitable both for large facilities like airports and, given their integrated event, storage, alarm and telephony functions, for smaller business and private premises.