Description
The H4 Thermal ETD solution enables a high-throughput and non-invasive method of pre-screening people at entry points to detect elevated skin temperatures – helping to keep a range of  sites and their people safe.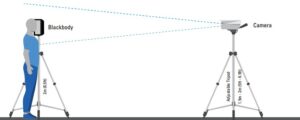 To setup the solution, the thermal camera should be positioned at a height of 1.5 to 2 metres with the individual and the blackbody within the same field of view. The distance between the thermal camera and the individual should be 1 to 1.5 metres. For best results, the thermal camera should be directed towards a non-reflective background behind the individual being screened, and deployed in indoor environments with a stable ambient temperature of 65 to 80°F (or 18 to 25°C). The camera is designed to intelligently focus on a subject's face, ignoring irrelevant temperature signatures from surrounding sources. The temperature reading displays prominently over the bounding box on the detected face, highlighting elevated skin temperature events with a red bounding box.
To prepare individuals for screening, each individual should line up in a single line formation as they proceed through an entry point. Before stepping in front of the thermal camera, each individual should remove items that obscure their eye area (e.g. glasses, hat, etc.). Once in front of the thermal camera, there must be a clear view of the individual's inner canthus (tear duct) region and the individual must look straight into the camera for 2 to 5 seconds.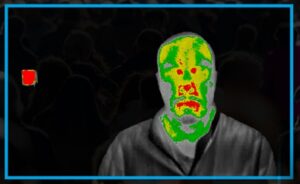 The blackbody device acts as an absolute temperature reference point for the thermal camera. When the thermal camera detects an individual's skin temperature to be higher than a set threshold, the individual can be sidelined for additional screening with a secondary approved method, such as using medical-grade devices (e.g. thermometer) and enlisting medical professional opinion (e.g. on-site nurse).
The camera is built to work with the ACC 7.10 video management software so that as well as taking immediate action elevated temperature events can be configured in ACC allowing for monitoring, assigning and acknowledgement of elevated temperature alarms. Powerful search tools enable you to quickly search through recorded video for elevated temperature events, so you can take further action with an informed response.