Description
Avigilon Control Center 7 Software
Version 7 of the Avigilon software introduces an entirely new way to monitor live video through it's Focus of Attention interface, enabling operators to see at a glance what is happening across the entire site and more effectively respond to the most important events.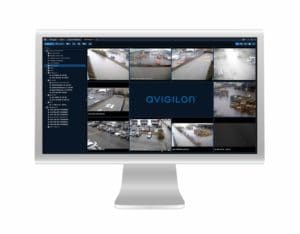 The Focus of Attention interface redefines the experience for monitoring live video. It helps increase operator effectiveness by providing an overview of events occurring across all cameras in the site, including Avigilon analytic events, Unusual Motion Detection (UMD) events, motion events, and alarms. Operators can quickly triage the most important events at a given time by
reviewing the associated live and recorded video to determine if a response is required.
Avigilon Control Center (ACC) is one of the easiest to use CCTV and Video Management Software systems (VMS). ACC has transformed how almost anyone can control and organise High Definition (HD) Video with an easy to use interface. As a widely used network VMS platform with high reliability, Avigilon Control Center is able to efficiently capture, manage, store and organise HD Surveillance video and images whilst also managing bandwidth. ACC can be supplied pre-installed and setup on an Avigilon Network Video Recorder (NVR) for ease of implementation or we can provide the standalone software to meet the needs of the type of installation you need.
Avigilon Control Center 7's New Analytics Feature
Clearly identifies people or vehicles
ACC 7 Dark Mode
ACC 7 software introduces a new theme with colors specifically chosen to reduce eye strain and improve
user experience in dark environments, such as video security control rooms.

Avigilon Appearance Search Technology
Find What You're Looking for Faster
Avigilon Appearance Search video analytics technology is a sophisticated deep learning artificial intelligence (AI) search engine for video. It sorts through hours of video with ease, to quickly locate a specific person or vehicle of interest across an entire site.  While investigating critical events, time is of the essence, and security operators are often provided physical descriptions of the people involved. Operators can initiate a search for a person by selecting certain specific physical descriptions, including clothing color and gender, to find a person of interest.
Appearance Search using Physical Descriptions & Showing Facial Analytics
Face Analytics Included in Search
Avigilon Appearance Search technology also incorporates the characteristics of a person's face, enabling the technology to search for the same person, even if items such as their clothing change over time.
The quick search capabilities of Avigilon Appearance Search technology enable operators to scan vast amounts of recorded video, efficiently grouping video data to help track a person's or vehicle's route, identify a previous and last-known location, and assist investigations
Avigilon Control Center Thumbnail Search
Designed to help dramatically improve event response times
The Thumbnail Search is a visual search that displays search results as a series of thumbnail images.  The search results display thumbnails at equal intervals on the timeline making it very quick and easy to find the object of interest.
Licence Plate Recognition (LPR) Analytics
Capture high quality images of licence plates day and night
Avigilon LPR analytics automatically reads licence plate information from vehicles, linking it to live and recorded video. This enables security operators to search and quickly find specific captured licence plate video for verification and investigation. The analytics captures, recognises, and searches licence plates with high accuracy and is easy to configure and use, with broad regional and country support including North America, Europe, UK, and Australia.
Case Study
Regency School Customer Testimonial Video
The schools CCTV system was being maintained by an external contractor, however on several occasions they had underperformed with maintaining the system and so Kevin Beck, Site Manager for Regency, had no choice but to look for an alternative partner for their security and maintenance requirements. In addition to this there was a need for further cameras to be installed onsite and possibly a new Video Management system to integrate the existing Mobotix IP System and the Bosch Analogue System.
If you would like any further information, the full case study can be found here.
Variations of the products installed at Regency are available here.