The updating of the Surveillance Camera Code of Practice has given the Biometrics and Surveillance Camera Commissioner Professor Fraser Sampson the opportunity to suggest to public bodies that broader ethics should also be considered when installing a CCTV system. He reiterated this message at a recent Police conference.
Updated Surveillance Camera Code of Practice in effect
The updated Surveillance Camera Code of Practice came into effect on 12 January 2022. This follows a consultation last year into changes to the Code to recognise legal changes since it was originally published in 2014.
The 12 Guiding Principles of the Surveillance Camera Code of Practice which must be followed to comply have not changed and there are no additional requirements. However, the text has been simplified and there have been updated references to subsequent legislation, in particular the Data Protection Act 2018 which incorporated the UK General Data Protection Regulation (UK GDPR), and the Court of Appeal judgment on live facial recognition in Bridges v South Wales Police.
The code is binding on "relevant authorities" which includes law enforcement authorities, such as the police and local authorities. The Code applies to the use of surveillance camera systems that operate in public places in England and Wales, regardless of whether or not there is any live viewing, or recording of images or information or associated data. The Guiding Principles aim to balance the need for camera systems in public places with individual human rights such as the respect for home and private life, freedom of speech and assembly.
It is hoped that other organisations wishing to operate CCTV systems will voluntarily comply with the 12 guiding principles. There is a self-certification scheme for adopters of the Code to show that they comply and voluntary adopters are encouraged to apply for certification as well.
Any organisation that successfully achieves certification is awarded a certificate of compliance from the Biometrics and Surveillance Camera Commissioner and are able to make use of the Commissioner's certification mark on their website and other communications to indicate their compliance with the Code.
Professor Sampson reminds relevant authorities of their ethical responsibilities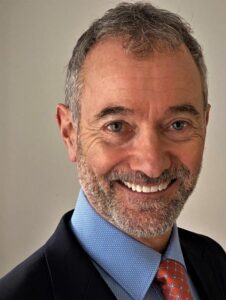 Professor Fraser Sampson (pictured left) wrote to the relevant authorities last month stating that the revision of the Code provided a timely reminder of their responsibilities when operating surveillance camera systems.
He said that given the level of public attention that can be generated by surveillance technology having regard to the Code would minimise intrusiveness, ensure data protection, provide public reassurance, and reduce the potential for deployments to discriminate inappropriately against individuals or groups.
The Biometrics and Surveillance Camera Commissioner also highlighted that those following the Code should appreciate that some ethical and human rights considerations began before the deployment of CCTV and began at the early stages of manufacturing, procurement, and the contract management of the surveillance camera system.
He wrote, "You may be aware I have significant concerns about the approach of some surveillance camera manufacturers, and I have raised these publicly on several occasions. I am therefore very pleased that the Foreign, Commonwealth & Development Office and the Cabinet Office intend to issue new guidance to enable buyers to exercise their discretion more effectively and exclude suppliers linked with modern slavery and human rights violations from bidding for public-funded contracts".
Commissioner links CCTV procurement to ethics
Speaking to the National Police Chiefs' Council National CCTV Conference 2022 Professor Sampson said, "In policing we know ethics is at the centre of the National Decision-Making Model and, according to the College of Policing, that means it's at the heart of all policing decisions – including presumably procurement."
As Ecl-ips highlighted in its recent blog about public sector CCTV procurement, the MPs that make up the Foreign Affairs Committee stated in it's report, "Never Again: The UK's Responsibility to Act on Atrocities in Xinjiang and Beyond" that the Chinese manufacturers Hikvision and Dahua "should not be permitted to operate within the UK."
This was due to their involvement in "Xinjiang atrocities" that were perpetuated against the Uyghur people by the Chinese government. The committee report stated that: "Cameras made by the Chinese firm Hikvision have been deployed throughout Xinjiang, and provide the primary camera technology used in the internment camps."
CCTV used in surveillance of human rights abuses in China
In his speech Professor Sampson referred to last December's judgment of the Uyghur Tribunal, in which Sir Geoffrey Nice QC found that "Hundreds of thousands of Uyghurs – with some estimates well in excess of a million – have been detained and subjected to acts of unconscionable cruelty, depravity and inhumanity. Sometimes up to 50 have been detained in a cell of 22 square metres, observed at every moment by CCTV."
The Commissioner said this raised questions about the ethics of companies. For example, he said, "You wouldn't employ an individual surveillance operator who had designed, built and worked in one of these appalling places so why would you employ a company that designed, built and operated them?
He added, "How much tax revenue should we hand to the surveillance companies that are owned and controlled by the same State which the Tribunal found to have been directly responsible for genocide using their surveillance technology to perpetrate it? How is partnering with such companies and enriching their owners "putting ethics at the heart of everything we do"?
Professor Sampson said that choices by public authorities around public sector procurement had been driven by value for money but he said there were various ways of considering costs. He said surveillance needed the trust and confidence of the public and suggested, because of this, good practice in the installation and operation of the CCTV should be extended to considerations about a company's ethical.
"We need to be careful whose corporate company we keep. Lawful, ethical, publicly-acceptable surveillance needs a systemic approach – and a systemic approach means focusing on the integrity – of the surveillance systems and practice as a whole – and the standards of everything and everyone in it. Because, in a systemic setting, if you infect one part, you infect the whole," he stated.
How Ecl-ips can help you include ethics in your procurement choices
At Ecl-ips we genuinely believe that you need to look at the quality of a CCTV system, as well as broader factors about the manufacturer, and buying decisions should not solely be based on the price. This includes considering how a CCTV system manufacturer supports you with cybersecurity and the ethics of the organisation. We are an NSI-Gold installer so are committed to high standards in our installations and supporting clients meet compliance and legal obligations.
If you are a public sector organisation and, following Professor Sampson's thoughts on CCTV procurement, you want to look at other options for CCTV we would be pleased to help you. Our preferred partner is the ONVIF-compliant North American manufacturer, Avigilon. Please get in touch to find out why we believe an Avigilon CCTV system is worth considering.