The Information Commissioner's Office (ICO) is committed to helping organisations to prepare for the GDPR, which will apply in the United Kingdom from 25 May 2018. One of the main ways in which they do this is by publishing practical guidance and signposting guidance produced by other bodies. In planning this they take account of what their stakeholders tell them about what they need to know about the GDPR and their own analysis of the key differences between GDPR and the DPA.
ICO previously set out the three phases they intended for the implementation of  work:
Phase 1: Familiarisation and key building blocks
Phase 2: Guidance structure and mapping, process review and initial development of associated tools
Phase 3: Bulk guidance refresh/production and review
This checklist highlights 12 steps you can take now to prepare for the General Data Protection Regulation (GDPR), click on the PDF below for full information.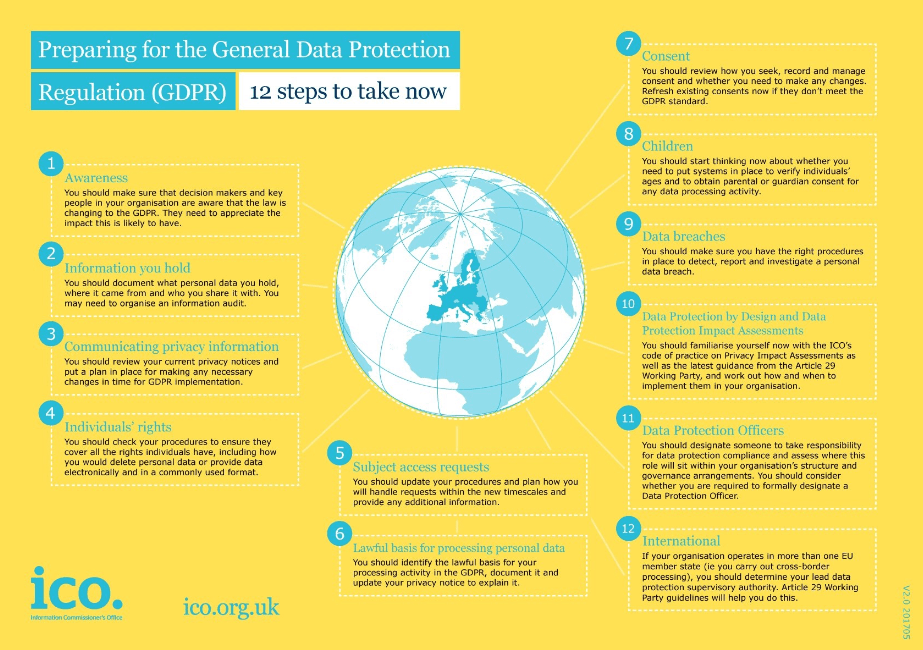 Meanwhile Ecl-ips has taken its own steps to ensure we are GDPR compliant and our partners have also taken steps to ensure their products are also compliant. For example, Although technology (such as Avigilon Control Center (ACC) video management software) cannot itself be GDPR compliant, all technology providers must consider how their products and solutions assist enterprises in deploying and operating a GDPR compliant system.
Whilst the GDPR regulations were not written expressly with video in mind, video is considered personal data of the subjects captured on camera, and therefore the regulation implies that those who own and operate video surveillance systems (CCTV Systems) must carefully consider, document, and manage the privacy impact of their video surveillance systems. Therefore, Avigilon has taken care to ensure that its video security solutions are GDPR-ready. For more information click on the post from Avigilon: http://avigilon.com/about/gdpr/
For more information on how to be prepared for these changes please visit the ico.org.uk website.