Visitor Management System for Schools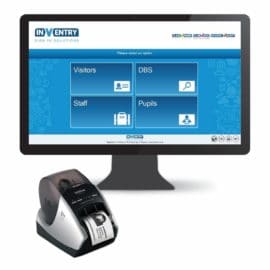 InVentry is the most trusted sign in system with visitor management available that has been designed with and for Education. Like many time and attendance systems InVentry speeds up the sign in process but also keeps identity information secure, allows you to accurately monitor who is in your school at any time and leaves you feeling confident that your students are safe.
Improve Safeguarding with secure visitor sign-in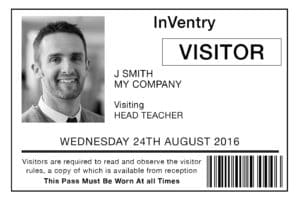 Designed with, and for educational establishments, InVentry comes with a fully-equipped MIS compatible touch screen that allows you to quickly and accurately monitor who is in your school at any one time, with everything securely encrypted back to a central database.
From a safeguarding point of view InVentry is invaluable, it restricts access to the building until visitors or contractors have signed in.  There is a photo taken of every visitor which will then be kept on the system.
For Multi Academy Trust InVentry has the facility to allow staff to travel across the sites using the same ID.  The DBS & Safeguarding module serves as your single central record of DBS checks for staff and visitors.
Save time for your staff and visitors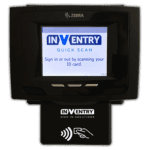 As reception areas are getting busier by the day the InVentry system makes the sign-in for visitors a lot quicker and being able to tick all the boxes in terms of the photo taken, DBS check recorded the list goes on, needless to say, OFSTED inspectors love it.
The facial recognition feature recognises visitors that have previously been on site to speed up the sign in process even more
Staff and Student registration made easy
Using a touch screen is now second nature to most people in a world of smartphones and tablets. But even to those unfamiliar with modern technology, the InVentry system is clear and intuitive, making it simple to welcome and sign in visitors, students and staff.  InVentry will also record the time and reason for any students arriving late.  Another significant aspect of InVentry are the swipe options which allow you to integrate with access control systems too!

Instant Fire Evacuation roll call
The Fire Evacuation iOS app allows you to access a real-time copy of your visitor, staff and student list from an iPhone, iPad or iPod Touch.
Know your visitors are signed in
Once again you don't have to rely on a busy receptionist to announce your guests, this system does it for you, either by email or SMS text message.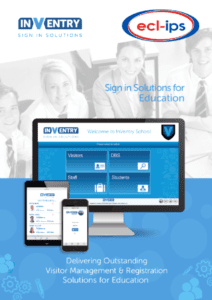 Download the Sign in Solutions for Education PDF for more details