September 12 2022 marked the 20th anniversary of our security and monitoring business. This milestone coincided with one of the most successful periods the business has ever had pushing our turnover to record-breaking levels.
Educonnect: born as a cabling company that expands into IP Services
The company was set up in 2002 by Nigel Smith as Educonnect Limited, and this is still our registered name, although we trade as Ecl-ips. We started as a data cabling installer providing Cat 5E and Fibre Optic cabling, as well as switching hardware, mainly to schools and colleges.
Aaron Kernaghan and Nigel had worked together previously and Aaron joined Educonnect in September 2005. They both wanted to offer additional services to the existing clients and the name Ecl-ips was formed due to the creation of the IP (internet protocol) services side of the business, standing for Educonnect Limited IP Services.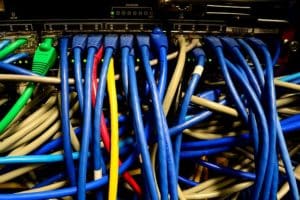 IP technology allows connected devices to communicate with each other over the internet. Staying abreast of this technology, and being able to offer the wide-range of solutions that have been developed using it, has been key to our success. Initially however, we were focused on offering data centre, server room and comms room monitoring solutions, which Aaron already had expertise in.
Aaron said: "Our main product in the early days was NetBotz. This was a product that I was experienced in and I had specified the product previously in some large projects. Our specialisation led to us maintaining and assisting old clients and to new NetBotz installations.
"Our support included how to understand the alerts and also what to do in the event of an alert. NetBotz was the only data centre, server room and comms room monitoring system that provided visual detection of individuals within these critical areas. In addition to this a central server also provided historic data for trending and setting up alerting as well as exporting incidents via the surveillance module."
By 2007, the IP Services part of the company had grown a lot quicker than anticipated. However, Aaron's and Nigel's views on the future direction of the company differed and they agreed to go their separate ways.
Aaron said, "Following several discussions and negotiations I purchased Nigel's 50% share and Nigel set up another company Educonnect (South) Limited and continued to offer the same services as he did previously. The share sale and redistribution of clients was all amicable and we do still speak and share the odd beer."
Ecl-ips continues to offer cabling, including Cat 5E and Fibre Optics, but now it is part of a wider security and monitoring solution whether that is providing Wi-fi, intruder alarms, CCTV or access control.
"Everything needs a network cable," Aaron said.